Suspended Abbey
Film by Nicole Tostevin, 16mm/Computer Animation, 14:00. 1991
Suspended Abbey was an official selection at the Sundance Film Festival, a finalist for the Student Academy Award, and received a CINE Golden Eagle Award. It also won over 20 awards and was screened at over 40 film festivals around the world including a screening at Saint John the Divine in New York, the Pompidou Centre in Paris, and The San Francisco International Film Festival.
"This well-executed mix of animation and graphic techniques illuminates the relationship of art, architecture, and ideology. Using only a Macintosh personal computer, this work incorporates the advances in multimedia computer graphics that push the frontier in motion picture imaging."
-American Film & Video Association.
FILM SYNOPSIS
A shimmering, dreamlike journey through a computer-animated mediæval monastery, where the Gothic landscape seamlessly flourishes and deteriorates before your eyes.  Both haunting and beautiful, the majestic ruins echo with ghostly voices that whisper an eternal and timeless question.
CREDITS
Director, Producer, Photography, Computer Animator: Nicole Tostevin
Music composition: David Javelosa
Vocals: Becky Allen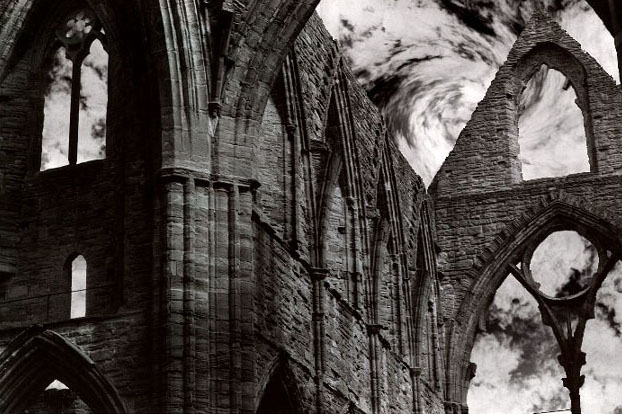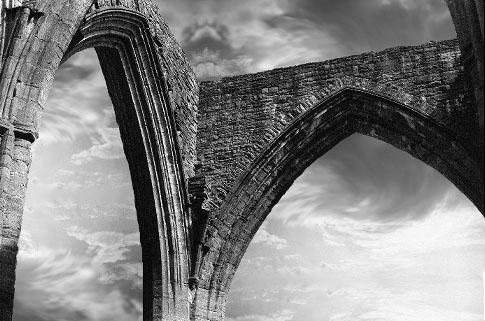 I made Suspended Abbey as my MFA graduate thesis film while at California Institute of The Arts in 1991. The film was made by animating digitally manipulated still photographs on a Macintosh computer and then filming each frame off the computer screen with a 16 mm camera. The illusion of the monastery is a result of an electronically produced collage of many differing photographs from various monasteries, abbeys and cathedrals. I took most of the original photographs while traveling in Britain. Although the majority of the architecture is based on Tintern Abbey in Wales, I reconstructed the ruins by painting in windows, doors, walls and roofs in order to return the abbey to its 13th century condition. The animation follows the restored abbey through erosion and decay into a modern day ruin.
I hope to one day digitize the film for online viewing but for now, the memory of the film on the big screen will have to do since I can't stomach the idea of seeing it on a small device. 
AWARDS:
1996 Audience Choice Award –  The Cacophony Film Festival, San Francisco
1993 Best Experimental Film Award 15th Festival International Du Film D'Art Paris, France
1993 Best Experimental Student Columbus International Film & Video Festival, Columbus
1993 Silver Apple Award National Educational Film & Video Festival, California
1993 Best Animation Award Louisville Film and Video Festival, Louisville
1993 Director's Choice Award Charlotte Film & Video Festival, Charlotte
1993 Finalist Award Worldfest -Houston International Film Festival, Houston
1993 Audience Choice Award Chicago Experimental Film Coalition Festival, Chicago
1992 Regional Finalist Student Academy Awards, Hollywood
1992 2nd Place Best of Festival A.R.C.O International Film Festival Of Madrid Madrid, Spain
1992 1st Place Prize Mons International Festival Of Short Films, Belgium
1992 1st Place Film as Art American Film & Video Association Film Festival, USA
1992 Coe Film Award ASIFA-East Annual Animation Festival, New York
1992 Honorable Mention 16th Annual Atlanta Film & Video Festival, Atlanta
1992 1st Place, Audience Award ASIFA San Francisco-Film Festival, San Francisco
1992 Golden Gate Award San Francisco International Film Festival, San Francisco
1992 Honorable Mention ARTSWEEK 92′, Rocky Mountain Film Center Denver, CO
1991 Golden Eagle Award CINE – Council on Int'l Non-theatrical Events, USA
1991 Grant Recipient Blum/Kovler Foundation Grant, USA
1991 Honorable Mention Bucks County Film Festival, Pennsylvania
SCREENINGS:
2004 American Film Institute, AFI/Mars Showcase New York, Silver Spring, MD
1994 Metropolitan Museum of Art,  "Program for Art on Screen", New York, NY
1994 Images 94 Festival of Independent Film & Video, Toronto, Canada
1994 New York Metropolitan Museum of Art Program for Art on Screen, New York , NY
1994 16th Big Muddy Film Festival, Carbondale, IL
1993 SUNDANCE International Film Festival,  Official Selection Short Film, Park City, Utah
1993 Oberhausen International Short Film Festival, Guest filmmaker, Oberhausen, Germany
1993 Best Experimental Film Award, 15th Festival International Du Film D'Art, Paris, France
1993 Semana De Cine Experimental De Madrid, Official Selection, Madrid, Spain
1993 Columbus Intl Film & Video Festival, Best Experimental Student Award, Columbus, OH
1993 National Educational Film & Video Festival, Silver Apple Award, Oakland, CA
1993 Louisville Film and Video Festival, Animation Award, Louisville, KY
1993 Charlotte Film & Video Festival, Director's Choice Award, Charlotte, NC
1993 Worldfest -Houston International Film Festival, Finalist Award, Houston, TX
1993 Onion City Film Fest,  Audience Choice Award, Chicago, IL
1993 IMAGE Forum Film Festival, Tokyo, Japan
1993 International Audio Visual Experimental Festival of Arnhem, Arnhem, Netherlands
1992 HIROSHIMA'92, The 4th International Animation Festival, Hiroshima, Japan
1992 VIII International Festival Of Films Directed By Women, Madrid, Spain
1992 Tel Aviv International Film Festival, Tel Aviv, Israel
1992 A.R.C.O Int'l Film Festival Of Madrid, 2nd Place Best of Festival Award Winner, Madrid, Spain
1992  Mons Int'l Festival Of Short Films, Belgium, 1st Place Prize Student Category, Mons, Belgium
1992 American Film & Video Association Film Festival, 1st Place Film as Art, New York, NY
1992 ASIFA-East Annual Animation Festival, Coe Film Award, New York, NY
1992 16th Annual Atlanta Film & Video Festival, Honorable Mention, Atlanta , GA
1992 ASIFA San Francisco-Film Festival, 1st Place, Audience Award, San Francisco, CA
1992 San Francisco International Film Festival, Golden Gate Award, San Francisco, CA
1992 ARTSWEEK 92′, Rocky Mountain Film Center, Honorable Mention, Denver CO
1991 Bucks County Film Festival, Honorable Mention, Doylestown, PA
1991 Cinanima 91-15th International Animation Film Festival, Espinho, Portugal
1991 International Film Schools Festival, Poitiers, France
1993 Sinking Creek Film/Video Festival, Nashville, TN
1993 Ann Arbor Film Festival, Ann Arbor, MI
1993 Florida Film Festival, Maitland, FL
1992 Medicine Wheel Animation Film Festival, Toured the USA